Birthday parties are the perfect opportunity to celebrate in a grand manner with your friends and family, your near and dear ones. Toasting to another year in life's beautiful journey, another year of fun, adventures, experiences, and journeys, birthdays make more for a very special occasion to celebrate.
While house parties, in present times, might be quite a hassle to arrange, you can always host an amazing and memorable party at one of the many awe-inspiring venues in Delhi. If you are willing to indulge in a grand party, one that everyone will be bound to remember for a long time, you can go for either of the following five venues listed as few of the best in Delhi. Poolside, rooftop, lounge, banquet hall, and 5-star restaurants, Delhi has it all. Read on to find the best of the lot.
The Imperial Ballroom at Golden Tulip, Chattarpur
The Imperial Ballroom is set to redefine the trend. Located at the lower lobby level, the Ballroom boasts of 3700 sq ft area which can accommodate 300  guests. The Imperial Ballroom can be converted into three separate halls catering to guests with varying preferences and demands.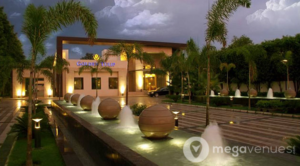 The hotel has elaborate arrangements for a complete birthday as well as wedding planning services in the form of Platinum Package.
Open Air Venue at Indiyaah Inn, Gurgaon
If you are looking for a lovely open-air evening conglomeration of friends and family with the view of the azure sky, some great food and beverages, Indiyaah Inn is one of your best options. The venue is known for its satisfactory services, great amenities, and for the advantage of its geographic location.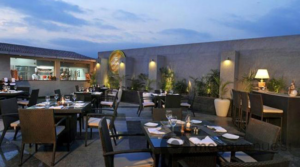 The Aqua Garden at The Park, Parliament Street
An extension of the city's most popular alfresco dining space, this is suitable for a classy open-air private function, an informal fashion walkthrough or a small cocktail party. Comfortable for 150 guests, it offers a live grill and barbecue counters to spice up the chilly winter evenings in the Capital. Hence, it is apt for both hodonists and foodies alike.
Cherie One Qutub, Mehrauli
Cheri, meaning 'dear' in French, seamlessly combines the elegance and warmth of a European garden bistro, whilst simultaneously exuding the energy of a downtown Jazz club. The spacious courtyard and lush green terrace blend elegantly with the warm indoor bar & dining space- creating a chic and sophisticated, yet relaxed & playful ambiance. Inspired by fine dining spaces and cuisines from across the world, Cheri is the perfect setting to enjoy warm romantic dinners, luxurious brunches or executive luncheons. Cheri is chic and playful, romantic and sumptuous, sophisticated and affordable.
Raas, Hauz Khas Village
Located in one of the most renowned places in Delhi, this place is a haven for all the foodies, especially the lovers of non-veg. If food is your topmost priority, its lip-smacking dishes will give you a heavenly feeling. The interiors are perfectly done and its ambiance is pleasant yet swanky, and royal at the same time. Raas also has a well-stocked bar which has some amazing brands of liquor that are perfectly complemented with/by their scrumptious dishes. Be it your friends or family, this place suits all your fine dining needs on special occasions such as your birthday. Their polite and friendly staff adds on to your astounding experience.