Can you smell the love in the air? May be it's coming from the newest range of perfume Selfie Teaze box that is a magical inventory of perfumebooth.com! PerfumeBooth, the online perfume company has a range of some exotic international perfume brands and they are selling out mini testers to its customers to give them a glimpse of the real flavors associated with every drop of the liquid fairytale! Today I am here to give you full review describing the outcomes if you are willing to buy this product for yourself or your special one!
Starting from the product packaging
Perfume Selfie Teaze Women comes in a double layered packing. After you are done playing  with the crazy bubble wrap, you will find a cylindrical box of dark blackish red elegant packing on which perfume Selfie, and Teaze is mentioned, the box is enough to give you a good vibe of the product. Inside the main packing there are seven mini perfume sticks and a perfume case to carry the handy product along with you anywhere.
Scents of joy have the following names-
Each Selfie box contains seven 4ml Selfie sticks from different international brands to give you a clear idea of the product's, so means you will get 28ml that will last for a month or more. The fragrance of each spray last for about 8 hrs and leaves a soothing freshness all day long. The sticks are black little cylindrical block each containing a different scent from diff continents joined together with a mix of emotion and style, named below are the fragrances and its brands-
Fasio by Emper
CA Classic Woman, Chris Adams
Active Woman, Chris Adams
Creation Orchid, Creation
Creation Gold, Creation
Web, Maryaj
Subsense, Louis Cardin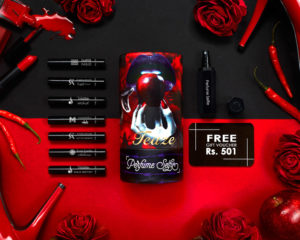 All these are a great mix of Grace, poise and sophistication. The seven secret fragrances are specially designed for outdoor and sensual moments, it's strong and unique in its own way, and there is no harm in spending just 475 Rs for a month long fragrance surprise pack. And if you are lucky you may get extra discounts out of PerfumeBooth special offers and other than this you will surely find a surprise coupon of Rs. 501 Gift Voucher Free with all of the mini trail packs which you can redeem during the purchase of the next favorite glass bottle.
A great option to gift and own, you are also getting exiting Discount Coupons Code. It won't disappoint you.  Perfume booth had really arrived with a new deal and option for digital perfume brands, and made fragrance freak like us even crazier with its wonderful deals. If you are done with Teaze as an option then, let me tell you, there are two more Selfie option named Sophistique and Lurve waiting for you,  So come on let's get flirty this summer girls!